Learn more about the actress that is as much perfect off-screen as she is on-screen.
We all know and love Rachel McAdams for her work in several great movies – forming The Plastics in "Mean Girls" (2004), tearing our hearts out in "The Notebook" (2004), outwitting the detective himself in "Sherlock Holmes" (2009), being the slightly pessimistic and materialistic fiancée in "Midnight in Paris" (2011), enchanting us in "About Time" (2013), keeping us at the edge of our seat in "Spotlight" (2015) – but did you know that, off-screen, she once stalked a guy or that she loves cooking and wouldn't mind opening a restaurant?
Here are 30 little-known facts about academy award nominee, Rachel McAdams:
1. Born in Canada. When asked, many think of the actress as being American, presumably because of her most famous roles having been American characters. She was born on November 17, 1978, in London, Ontario.
2. Childhood of figure skating. At the age of four, McAdams picked up the hobby of figure skating and continued until the end of high school. She competed throughout and even had the chance to go pro but decided to quit in favour of acting (thank god). Other past time activities were tennis, ballet, swing dancing, piano, art class and etiquette.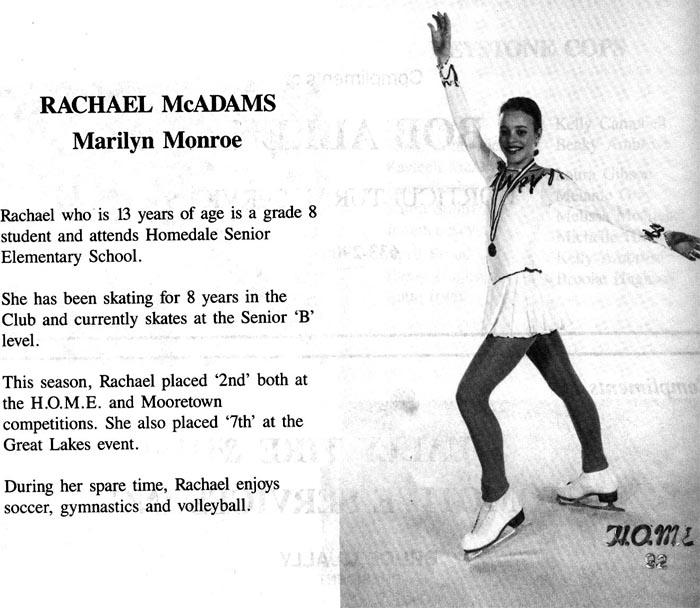 3. First role ever was as April O'Neal. Yes, the turtle friendly news reporter from Teenage Mutant Ninja Turtles. It was in a school play, during her early years, and the first official role she ever landed.
4. Won first acting award in 1995. Growing up, McAdams was involved with the Original Kids Theatre Company in London, Ontario, appearing in classic productions such as Shakespeare. Her first ever acting award was for her role in the high school play I Live in A Little Town, which was featured in the Ontario Showcase of the Sears Drama Festival.
5. First onscreen performance was for Disney. McAdams got her break playing a guest role on the Disney Channel show The Famous Jett Jackson (1998-2001), starring in an episode as Hannah Grant, the bulimic older sister of one of the main characters.
6. Has a theatre degree. It may not come as a surprise that the academy award nominated actress studied theatre at University. In 2001, she graduated from York University in Canada, with a Bachelor of Fine Arts Honours Degree.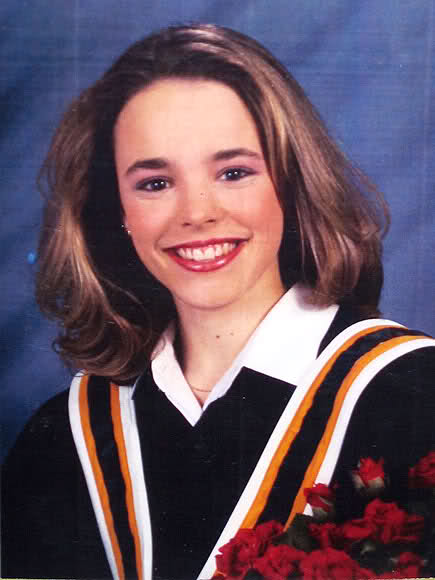 7. Feature debut as an American tourist. In 2001, McAdams starred in her first feature film, My Name is Tanino, as Sally, an American vacationing in Sicily. While there, she meets Tanino and after a romantic encounter the Italian boy can't seem to let go of the young American (to be fair, who could).
8. Had already been cast as a Mean Girl. Previous to her iconic role in Mean Girls (2004), McAdams had already starred as a mean-spirited high school girl quite similar to Regina George. Cast as Jessica in The Hot Chick (2002), McAdams, plays a popular captain of the cheerleading squad, dating the quarterback who one day wakes up in the body of a 30-something man (Rob Schneider).
9. Was supposed to be the nice girl. In Mean Girls (2004), Rachel McAdams had originally auditioned for the role of Cady Heron, the main character in the movie. Similarly, Lindsay Lohan had auditioned for Regina George, the mean girl, but the director thought both actresses better suited for the other's role and so they switched.
10. Was 26 when playing a high-schooler. The cast of Mean Girls (2004) did a lot of age-bending to fit the roles they were playing. McAdams was 26 at the time, 8 years older than her counterpart, Lindsay Lohan, who was supposed to be the same age in the movie. Amy Poehler, who plays Regina's mom, was only seven years older than Rachel.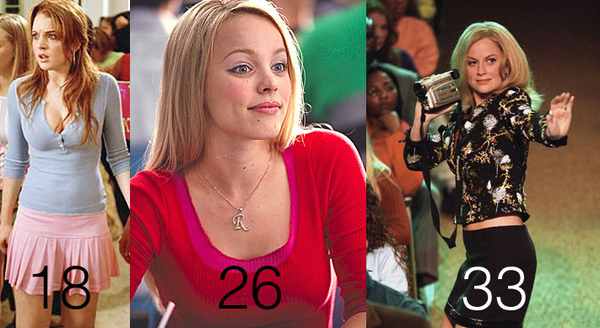 11. Not popular in high school. It might come as a shock – or not. She is a very good actress – that Rachel was not a very popular high school girl. A geek, a big one, is what she proclaims herself to have been during her teenage years.
12. McAdams and Gosling were born to be together. Rachel and co-star and later boyfriend, Ryan Gosling, from The Notebook (2004) were born in the same hospital – namely, St. Joseph's Hospital in London, Ontario. Ain't that a match made in heaven.
13. Won award for best kiss. Back in '04 we were all about that Notebook love and so was MTV. During their 2005 Movie Award gala Rachel was nominated for a record five awards, for her work in Mean Girls (2004) and The Notebook (2004). She won in three categories, one being "Best Kiss" for the infamous Notebook kiss with Ryan Gosling. When accepting the award, the couple recreated the scene and fans went wild!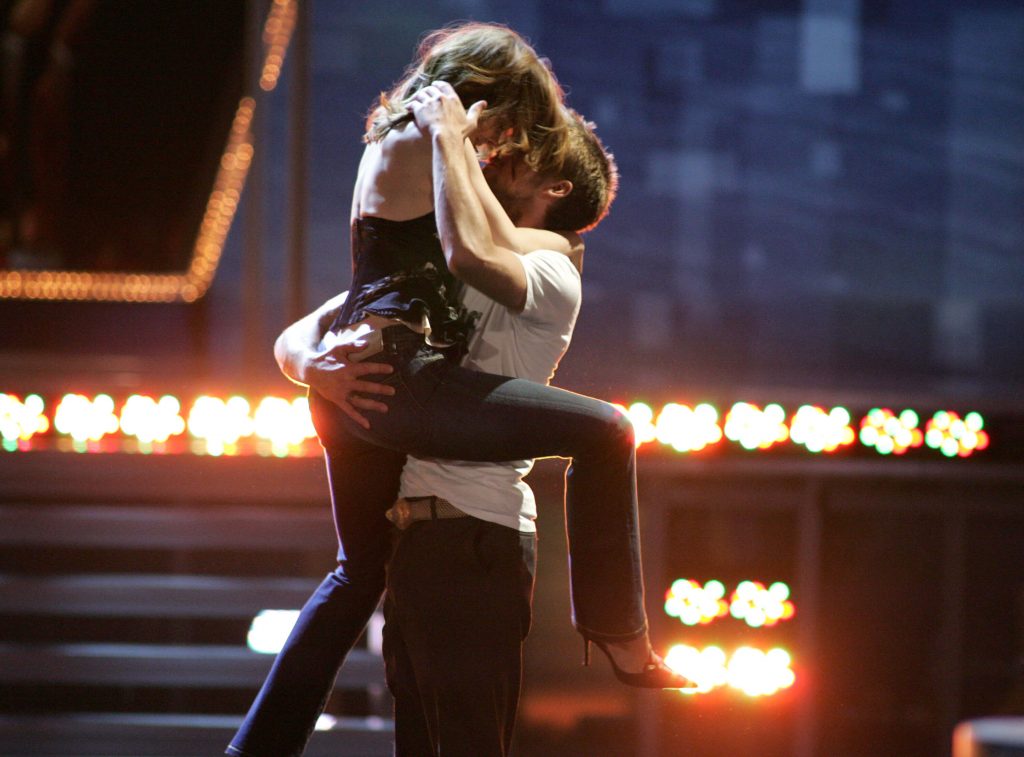 14. Did not like Ryan Gosling. McGosling (McAdams + Gosling) was for a long time considered the perfect celebrity couple in Hollywood. The two actors started dating after having worked together in The Notebook (2004) and were together for more than two years. It was a love story straight from the books but what many are unaware of is that Rachel and Ryan did not get along when filming the movie, like, not at all. They would scream at each other and constantly argue. But now, even after having broken up, Rachel still considers Ryan as one of her best friends.
15. Was first choice as the devils secretary. Fox originally had Rachel as the studio's first choice for Andy in The Devil Wears Prada (2006). Unfortunately, Rachel had to turn down the offer in hopes of moving away from mainstream projects. Fun fact, at a very early age, Rachel wanted to be a secretary because she loved paper clips and staplers.
16. Is a vegetarian. Not much more to say, except "Good on you, Rachel!"
17. Lied to score a role. To star in To the Wonder (2012), McAdams had to lie about a certain horse hair allergy, in order to get the role she wanted. She knew horses were going to be featured in the film and when the time did come, to film these scenes, Rachel indeed got an allergic reaction where her eyes swelled up to the point where she couldn't even see.
18. What is her actual hair colour? Throughout the years we've seen the actress explore a wide range of hair colour – dark brown, red, every shade of blonde imaginable and even testing out pink streaks for a short period in 2007 – but it's hard to guess what her original colour is. Well, she's naturally brunette. There you have it.
19. Is a green environmentalist. Examples: doesn't own a car, instead takes the bike whenever possible; launched an earth-conscious website back in 2007, called Green is Sexy, offering environmental tips to reduce an individuals' carbon footprint; has supported and participated in several protests regarding the environment; filmed two promotional video for Food & Water First Movement in 2013; has narrated two feature length environmental documentaries, one about the devastating impact of industrial and military ocean noise on marine life (Sonic Sea, 2016); 'nuff said.
20. Has not posed nude for magazines. I know what you are thinking – no, that is not a typo, so stop googling it. In how the media and publicity works today, one has seen most celebrities conforming to the industry, so it is not rare to see actors and actresses pose nude for a photo shoot or magazine cover, whether it is for fashion, art or making a statement. Rachel, however, has made an effort to not pose nude for any print, which is why she opted out of a cover shoot for Vanity Fair's March, 2006 Hollywood issue. Probably a wise decision seeing as that cover came to be one of Vanity Fair's most controversial of all time.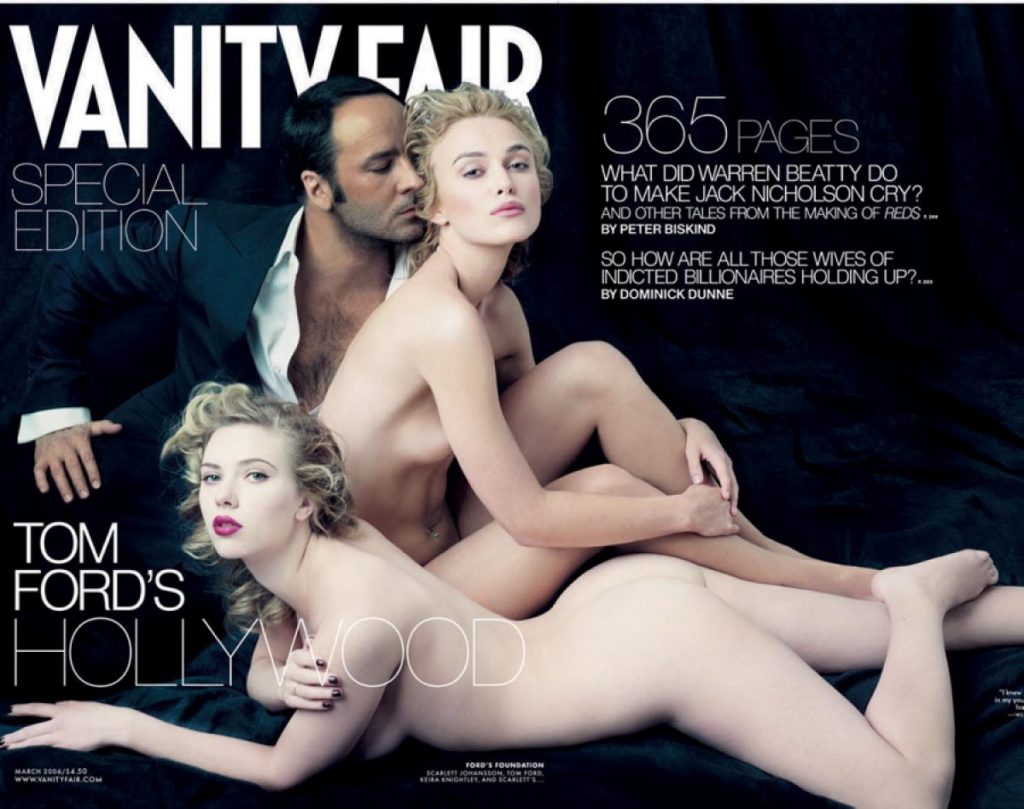 21. Would love to open a restaurant. The actress loves to cook but has also admitted, "I'm not an amazing cook but I can follow a recipe,". She says that she wouldn't mind opening and managing a restaurant if she weren't an actress.
22. Is very athletic. Apart from having grown up on sports, like volleyball, badminton and soccer, Rachel has kept up with fitness and health for most of her adult life. She does kundalini yoga every morning, goes swimming and rock climbing, works out regularly and is in general very active in her daily life. One could say, she is already in perfect shape to play a superhero *hint* *hint*.
23. Once stalked a guy. In an interview Rachel reveals that the craziest thing she has ever done to get a guy's attention was to stalk that person. It was a close friend of hers that she had lost touch with. She found out where he worked, a restaurant, and showed up one day, acting very surprised to see him.
"It's the most manipulative thing I've done in my entire life, but it all worked out very well, so I have no regrets." – Rachel on stalking her friend.
24. Her parents are normal people. Successful celebrities tend to have parents or family that at one time or another were involved with and sometimes successful, themselves, in the entertainment business. In Rachel's case however, her parents have very normal jobs and live a calm, happy life in Toronto. Rachel's mom, Sandra, is a nurse and her dad, Lance, is a retired truck driver turned furniture mover.
25. Sister is celebrity make-up artist. Kayleen McAdams, younger sister of Rachel, is a celebrity in her own right, in the make-up industry. The two sisters have worked together on two films, Marriage (2007) and Lucky Ones (2008). They also, both, were on an episode of Who Do You Think You Are, back in 2014.
26. Dates time travellers. At least, she tends to do it in her movies. She's been in a total of three movies where her partner in one way or another travels through time – The Time Traveler's Wife (2009), Midnight In Paris (2011) and About Time (2013). She has said in an interview that if she, herself, could time travel she would to go to the '60s, as the time's fashion and music fits right in with her personality.
27. Was considered for the role of… Sue Storm in Fantastic Four (2005), Vesper Lynd in Casino Royale (2006), Rachel Dawes in The Dark Knight (2008) and Daisy Buchanan in The Great Gatsby (2013). Now, that would have been a resume!
28. Would love to work with… Daniel Day-Lewis, James Franco and Sam Rockwell. Funny thing is, she almost got to work with James Franco back in her early days as Franco was considered for the role of Aaron Samuels in Mean Girls (2004).
29. Was voted sexiest actress. In 2015, at the age of 37, Rachel McAdams was voted "Sexiest Actress" by Victoria Secret's annual "What is Sexy" list. It should not come as a shock to anyone, really, she is as beautiful as ever.
30. The next Cheetara? Rachel says that when it comes to superheroes, she would rather play the role of Cheetara from ThunderCats. And if Hollywood is listening we might have a new blockbuster movie coming up next summer, featuring McAdams.
Bonus fact: The White House once tweeted a line from Mean Girls (2004):
Bo, stop trying to make fetch happen. pic.twitter.com/Ez6hWGFpFc

— The White House (@WhiteHouse) August 13, 2013