Rachel McAdams has always been known as a stellar actress, with notable acting awards and nominations and iconic roles that made her a household name. In film productions, she's recognized for her serious acting skills and her professionalism without that diva attitude.
Behind Hollywood's glamour and glitz, Rachel McAdams is a very private individual, choosing to stay away from the limelight and living a simple life. However, Rachel's passion for the environment and charity works have further endeared her to fans.
Through the years, Rachel has supported a number of causes and participated in a number of charitable works to effect change. Here are a few of her supported causes:
Habitat for Humanity
Habitat for Humanity aims to build affordable housing in the community for less privileged citizens. In 2013, Rachel together with her family has helped construct homes from the ground up.
GreenIsSexy.org
This is an eco-friendly website run by Rachel together with her two other friends. The site ran from 2007 to 2011. It aims to spread environmental awareness to all kinds of people and make a difference.
Greenpeace
Rachel on several occasions have helped promote Greenpeace's goal of paving the way for a greener and more peaceful world in non-violent creative actions. In 2015, she attended a Greenpeace rally in Vancouver to protest Arctic drilling. She has also lent her voice for Greenpeace in a video campaign about Arctic protection.
Food and Water First Movement
As an active environmentalist, Rachel went to the Honeywood area to shoot for a video, campaigning for the preservation of Ontario's farmland. Aside from this, she also talked with local farmers. The Food and Water First Movement aims to reconsider rezoning policies that endanger food and water sources.
Small Steps Project
In the past, Rachel has donated some of her shoes to the Small Steps Project. This organization is focused on providing shoes and emergency provisions to children who have been scavenging in dumps.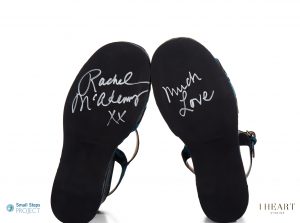 Alzheimer's Association
As her movie 'The Notebook' paved the way further for her awareness of the condition, she has donated some of her belongings to the Alzheimer's Association to be auctioned off. Proceeds of the sale will go to fuel more research about Alzheimer's.
 The Sunshine Foundation of Canada
Rachel has supported the Sunshine Foundation of Canada by donating a handbag in the Sunshine and Stars contest. This charitable organization grants the wishes of children with disabilities or terminal illnesses.
United Way Toronto
                In order to help United Way Toronto acquire funds, Rachel hosted a screening of her movie 'The Notebook' and donated the ticket sales to the charity organization. She was able to raise $6,000 for United Way Toronto.
Other Notable Causes Supported
As a staunch environmental activist, Rachel's home in Toronto utilizes renewable energy and she goes around Toronto riding a bike.
At the aftermath of Hurricane Katrina in 2005, Rachel volunteered for the cleanup efforts in Louisiana, Biloxi, and Mississippi.
In December, 2015, Rachel donated $75,000 to Nanny Angel Network, a charity organization for children.
In 2006, Rachel participated in the 'Day Without Immigrants' demonstration to protest the marginalization of US illegal immigrants.
Rachel is a member of Represent.Us, an organization that advocates for tough anti-corruption laws. She is part of the organization's creative council.
More than her superb acting, professionalism, and charmed beauty, Rachel McAdams is truly a woman with a heart, truly worthy of admiration and respect!