40 is definitely the new 20!
This is true when it comes to Hollywood's favorite It Girl, Rachel McAdams! Rachel just celebrated her 40th birthday last Saturday, November 17, but she doesn't look a day older than 20 years old.
As a tribute to this amazing actress' special day, let's take a look at some of the highlights of her colorful career and milestone achievements:
As far as iconic roles are concerned, Rachel McAdams' portrayal of Regina George in Mean Girls top the list. So effective was her portrayal of the Plastics' Queen Bee that she became the pattern for every mean girl in teen flicks in Hollywood for years to come!
When it comes to romance movies, Rachel McAdams has equally made a mark in the genre. Enter The Notebook, The Vow, and The Time Traveler's Wife and you'll remember that Rachel McAdams did notable portrayals of her character that had you laughing, crying, and falling in love with her. Especially worth praising is her portrayal of rich girl Allie in The Notebook who fell in love with Noah, which earned her both critical acclaim and box office popularity. And throwback to that time when everybody rooted for the onscreen couple to take the romance into real life as well!
Rachel Mcadams' versatility as an actress really shines through as she is also hilariously funny! With comedic timings and punchlines, she can hold her own among seasoned comedy, and it shows in Game Night, The Wedding Crashers, and The Lucky Ones.
Rachel McAdams has always been praised for her impeccable acting skills, and she's proven that she really knows her mettle with nominations and individual awards for her portrayals in Spotlight, Red Eye, and Disobedience.
Beyond the limelight, Rachel is a very private person, but it is common knowledge that she is a very active philanthropist and environmentalist, running an environment awareness website, helping build homes in Habitat for Humanity and assisting with recovery missions during Hurricane Katrina to name a few.
Despite all the success she has achieved in her acting career both in the big screen and on television, nothing can top 2018 for her! In the past, the actress has always expressed her desire to start her very own family, and this year, it happened! Just last April, she received a bundle of joy she can call her own. She gave birth to a healthy baby boy with beau, Jamie Linden!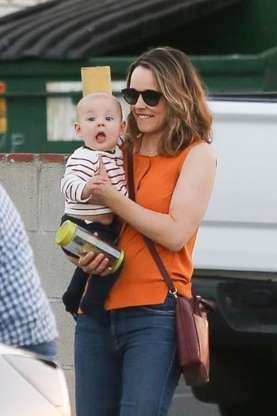 2018 is indeed Rachel McAdams' year!
Happy 40th birthday, Dear Rachel!