Rachel Mcadams Fan Site
Welcome to RachelMcAdams.org. This is a complete fansite dedicated to the talented Canadian actress Rachel McAdams. She has played roles in some amazing box office hits such as "True Detective (2015)", "Southpaw (2015)", "The Notebook (2004)" and latest Doctor Strange (2016). We aim to provide you with the most interesting and entertaining information about Rachel. Here you can find and learn everything about this superstar!
Latest Articles
Rachel McAdams: The rise of a star
Rachel Adams is a Canadian actress who has been making films for 15 years now. The successful actress discovered her love for acting at the tender age of 12. Back then, as a small town girl, she would spend every waking minute dreaming about her success as an actress. The glitz and glamor did play a part in her yearning for a life on the silver screen but a burning sensation inside her that kept pushing her towards it is what ate her up inside. She always wondered whether she would make it in the film industry or whether it was just a passing phase that every child goes through. She went ahead and studied theater at York university for 4 years and completed her degree in 2001 even though in her younger years she held doubts about making a living from her passion. During her time at York she performed in several stage productions as well as student film events. Her most notable performance during her years in York was in the MTV pilot, Short Gun Love Dolls in 2001 in which she came on as Beth Swanson.
After finishing her degree, she started out in Canadian TV and film productions where she played roles in movies like Perfect Pie, a drama, and received an award nomination for it. She also had a role in My Name Is Tanino, a Canadian/Italian production. My Name Is Tanino gave McAdams some of her most memorable moments as a budding actor. The film had scenes that were shot in Sicily. While shooting the film, she got her first opportunity to fly at the age of 22. After dabbling with Canadian film for a while, it was evident that her star was on the rise and she moved to Los Angeles to open herself up to bigger things. Her search for Hollywood success landed her a role in the comedy The Hot Chick in which she was cast alongside Rob Schneider, effectively marking her Hollywood debut.
Early life and dreams
Rachel McAdams was born in a humble background and her mother was a nurse while her father was a truck driver and furniture mover. She was born in London, Ontario on November 17th, 1978 (age 37). Her parents were Sandra Kay and Fredrick McAdams. She is of Scottish, English and Irish decent. She is the eldest in her family and is followed by a brother, Daniel and a sister, Kayleen who is a celebrity makeup artist.
McAdams went to school at Myrtle Street Public School an elementary school in St.Thomas, her hometown. She proceeded to Central Elgin Collegiate Institute for her secondary school education. She was not the type of student that was excited about school; on the contrary, she hated anything to do with academics at a younger age and would pretend to be sick to avoid going to school. Despite her attitude towards academics, she maintained good scores in her school work and actively participated in many school-related activities. She took part in sports such as badminton, volleyball, and soccer, joined the Peer Helping Team and the Crime Stoppers program as well as serving as part of the student council. During the summer holidays of her high school years, Rachel would go out and look for jobs to earn herself some money for the holidays and found a job at McDonalds which she did for 3 years.
A talent for figure skating
At the age of four, she developed an interest in figure skating and got so good at it that at age 9 she was offered an opportunity to train in pair skating but turned it down because it involved moving to Toronto. Even though she had the potential to go pro and do more with her skating exploits, it eventually got relegated to being just a hobby. However, despite not exploring her possibilities in the sport, she did compete in different events over the years even winning titles. She did not pursue skating like everyone around her thought she would, she attributes some of her success in acting to her years in the rink. She says that figure skating taught her how to connect with her body and become "in tune" with it which was a great help when it came to physical acting.
Early interest in acting
As a young girl of seven, she developed an interest in acting that led her to attend both Shakespeare and Disney summer camps as a child. At age twelve, a young McAdams joined London productions, a kids' theater company and started directing kids' theater productions by her late teens. She also participated in school stage productions and won a performance award at the Sears Ontario Drama Festival. Although her parents were not against her ambitions to become a professional actor, they did not take any extra efforts to find her any acting opportunities or an agent. Back then, it seemed like something every child her age wanted to do.
Rising stature and Hollywood
Having played in her first American Film, she moved back to Canada and featured in the mini-series Slings and Arrows winning her first significant accolade, a Genie award for best supporting role- an equivalent of the Oscars in Canada. She, however, could not continue with the series as her success in America demanded too much of her. Asked about her days as a budding actor, McAdams says that her role on The Hot Chick meant a lot to her and served as a driving force that indicated she was destined for greater things.
Mean Girls and The Note Book
Even though she had gotten a nomination here and a little recognition there, McAdams had not made it to the very apex of being an actress; she knew there was more to come even though she had no cutout plan on what exactly she needed to do. Her big break, however, came in 2004 in the romantic drama The Note Book which she starred with Ryan Gosling. In the same year, she also starred in the comedy Mean Girls and soon after her star started rising. The media and the movie industry alike fell in love with her performances in both films and the limelight started shining on her. The Los Angeles Times wrote an article about the upcoming talent and billed her to be one of the most promising young actresses of her day. She also featured in an article in the Daily Mail which heralded her as a talent to watch out for. With all the media attention she was enjoying at the time she easily became a teen sensation, having played roles in movies that spoke to the younger generation more than any other demographic.
In preparation for The Note Book, McAdams spent some time in Charleston, South Carolina so that she could get used to the Southern accent used in the film in which she played a wealthy southern beauty that falls in love with a poor laborer. She also took ballet etiquette classes to improve her character portrayal in the movie.
Despite it being a love story, McAdams and Ryan Gosling, who were co-stars in the movie, had a turbulent relationship on set. During the movie's shooting, the two were constantly at each other's throats over one thing or the other. In an interview, Gosling said that the two "brought the worst out of each other." Despite their constant feuds on set, the two gave a sizzling performance and brilliant chemistry that received rave reviews from movie critics. The charm the two sparked on set was later realized in real life in 2005 when they got romantically involved.
The following year-2005, proved to be a busy one for Rachel McAdams as she won two MTV Movie Awards for best kiss (The Note Book) and breakthrough female (Mean Girls) and kept on bagging good roles in high-grossing films. In that year, she played a role in Wedding Crashers, the comedy-drama The Family Stone, and Red Eye, a psychological thriller. At this time, Rachel McAdams was all over the media, the spotlight was on her and the camera had fallen in love with her. Her entry into acting was sealed and the media labeled her the "it" girl. It is during this period that she also received a BAFTA nomination for "Best Rising Star."She had everything going for her and landing important roles in movies that would go on to become commercial successes did not seem like much of a hassle anymore.
Taking a break from acting
2006 was bound to be a magical year for the actress, having received the approval of movie critics across the board with notable awards to boot. Movie lovers were just getting accustomed to her great talent and impressive performances on the screen when she took a break from 2006 to 2007 to focus on herself. Her sabbatical from acting came at a time when all the newspapers could say about her was her great talent and potential to become a worldwide icon. She was looked at as the next Julia Roberts and the unforeseen move send shock waves in the movie industry. McAdams, Keira Knightley, and Scarlett Johansson were invited to a photo shoot for the March 2006 cover of Vanity Fair, the Hollywood issue. On reaching the set of the shoot McAdams found out that it was a nude shoot, declined and left. At that time she fired her publicist who kept the nature of the shoot from her. Asked about her hiatus in an interview in 2013, McAdams likened her situation to a kitchen full of cooks who would eventually ruin things for her. She explained it as stepping away from all the voices around her to find her own voice. In retrospect, McAdams said that she never really wanted to be a movie star or work out of Canada or the theater for that matter. During her time off, she declined some lucrative roles including a role in Mission Impossible 3, The Devil Wears Prada, Casino Royale and Get Smart.
Tom Bezucha, who directed The Family Stone commended her decision and termed it as a show of wisdom given all that comes with working in high budget films. In the same interview, he goes on to applaud her efforts in side stepping Hollywood. "In her heart, she is a character actress," Bezucha said about McAdams.
Return to prominence
In 2008, McAdams came back to acting taking roles in Married Life and The Lucky Ones. Both films performed poorly at the box-office. In 2009 though, the tides changed as she went back to her winning ways with The Time Traveler's Wife, State of Play and Sherlock Holmes all of which did well in theaters, taking her back to the commercial success that she was before she took a break.
Her success continued with roles in Morning Glory (2010) and Midnight in Paris (2011). The latter received a nomination in the Actors Guild Awards for outstanding performance by a cast in a motion picture. Woody Allen, the film's director wrote her part and cast McAdams for the film after Diane Keaton McAdams' co-star in The Family Stone recommended her to him.
2012 was the highlight of her triumph as a lead actress in the drama The Vow which grossed $196 million. The movie, which she co-stars with Channing Tatum, follows the story of a husband who tries to revive his romance with his wife (McAdams) after a tragic road accident that robs her of her memory. The film received mixed reviews owing to the paper-thin plot as some critics felt that McAdams' talents would be put to better use in another motion picture other than one based on a story that has been replicated in many forms before. The actress herself felt drawn to the plot as she found it refreshing to have the story told: "from the guy's eyes."
After her abrupt pause from acting in 2006, the actress renewed her passion in acting and has gone on to feature in numerous "big name" projects. In 2012, she was cast in the erotic thriller Passion, the romantic drama To Wonder, the romantic comedy About Time, and an espionage thriller in A Most Wanted Man.
In 2015, she continued with her array of good performances in Aloha and Southpaw. Among her films for 2016 was the drama Spotlight. The movie, directed by Thomas McCarthy, details the story of the child-abuse scandal that plagued the Boston Catholic Church. McAdams is cast as Sacha Pfeiffer. To prepare for her role, McAdams stayed in ceaseless communication with Pfeiffer to get all the details of the role first hand. McAdams admits that she "bugged Sacha a lot" and she graciously helped out wherever she could. The movie went on to become a worldwide hit with a solid and detailed plot coupled with stellar performances from the cast. McAdams received 4 nominations from the movie.
Taking on the role of a gambling addict
In 2015, Rachel Mcadams also took on the role of Antigone "Ani" Bezzerides. Ani is Ventura County detective with a rough past. She used to be an alcohol and a frequent gambler with many hours spent in front of online casinos. We can imagine her gambling for ours, claiming free spins on signup or looking for a casino bonus. In the series, we get to learn that she's now recovering and trying to get back on her feet, but it's not going to become easy.
Off-screen she lives a simple life
For an actress who has proved time and again that she is at the epitome of acting royalty, McAdams lives a simple life that she fiercely protects from the drama of Hollywood. Even though she holds a U.S green card, she says that there is no need to live there as most films are not even shot in Hollywood anymore. She resides in the Harbord Village neighborhood in Toronto, Ontario, Canada.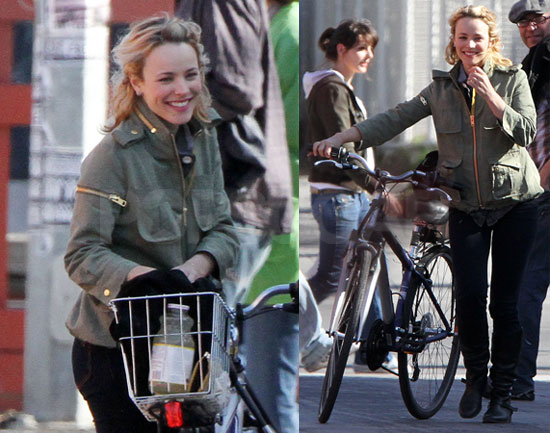 As a devoted philanthropist and environmentalist, McAdams prefers to ride around on a bicycle and does not own a car. She has volunteered in many causes to support humanity- including the clean up after Hurricane Katrina. She also practices Kundalini yoga as part of her daily routine.